The Deltona Club: Resurrection
The Deltona Club: Resurrection
Florida insiders always spoke highly of the old Deltona Golf & Country Club for its nostalgic simplicity, sandy foundation and beautiful elevation changes that qualify as exotic for this flyover region between Orlando and Daytona Beach.
Unfortunately the holes themselves had less appeal. Like most unmodified courses of the era, the 1964 design by regional architect David Wallace was exhausted, its gravity faded away.
Which makes the resurrection Bobby Weed and associate Chris Monti performed in 2007 nothing less than stunning, some deft sleight of hand alchemy that transformed dull in to dreamy and poor into profound.
What Weed and Monti did to the property was less a renovation than a conjuring. By gouging away elongated sections of coarse rough in the areas bordering the holes and near greens they summoned into existence the site's un-utilized natural superpowers: deep wells of sand and topography that money can't buy (at least not on this budget). 
This potential was always available but never employed, and it now makes The Deltona Club one of the most visually dramatic golf courses in Central Florida.
The sandscape buffers create a heightened sense of +/- outcome on nearly every shot, and the cutting away of turf actually increases hole width and gives sideways movement in the old, linear fairways.
There's an enormous amount of latitude off the tee — even for high handicap players — while protruding fingers of sand on holes like 5, 7, 12 and 15 give bigger hitters a chance to flirt with corners and work their drives off sideslopes.
The routing is two out-and-back nines with holes coupled together between residential pockets, but their breadth and arrangement across a smart land plan gives the course the feel of core golf.
The original green locations were almost all excellent, sited on crests and ridges, but they'd become small and dull. The putting surfaces and surrounds were enlarged to better match the rolling scale of the landscape, although that the lack of more prominent contour is a letdown, especially given how right everything else is.
After adding acres of fearsome looking sand barrens, Weed might have been wary of overwhelming the local clientele, but I think that doesn't give them enough credit. Nuance is squandered on a setting like this.
The club's best holes — 13 through 16 — climb almost 50 feet up and down the highest point of the prehistoric sand ridge that runs through town. The memorable run includes a rising par-5 with a deep and deceptive green, a long downhill par-3 across a minefield of bunkers and a short par-4 with an uphill tee shot and blind approach.
Deltona is a page turner tee-to-green with great sequencing plus elevations and ground movement that place it in a microscopic class of Florida courses.
Holding it back from an even higher score are greens that call for slopes and kickers and bowls that mirror the excitable terrain. Two new holes, the short par-3 9th and the 300-yard par-4 18th with a tree 75 yards in front of the green, are also weak finishers.
Weed had to re-jigger a few things in this section of the property to make space for them plus future condominium development that, if completed and filled, would subsidize the club's long-term finances. Real estate overriding golf is nothing new in these parts — thankfully its impact here is minimal, with the real action taking place everywhere else (92).
Deltona/Orlando
Artchitect: David Wallace/Bobby Weed (2007)
Year: 1964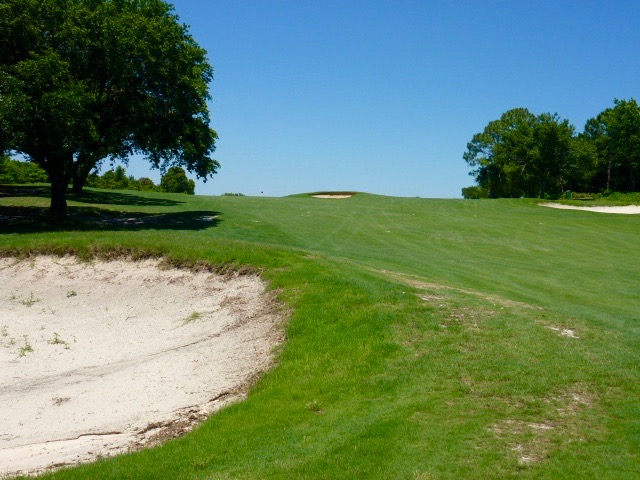 Please follow and like us: