Mad About Mid-Pines
Mad About Mid-Pines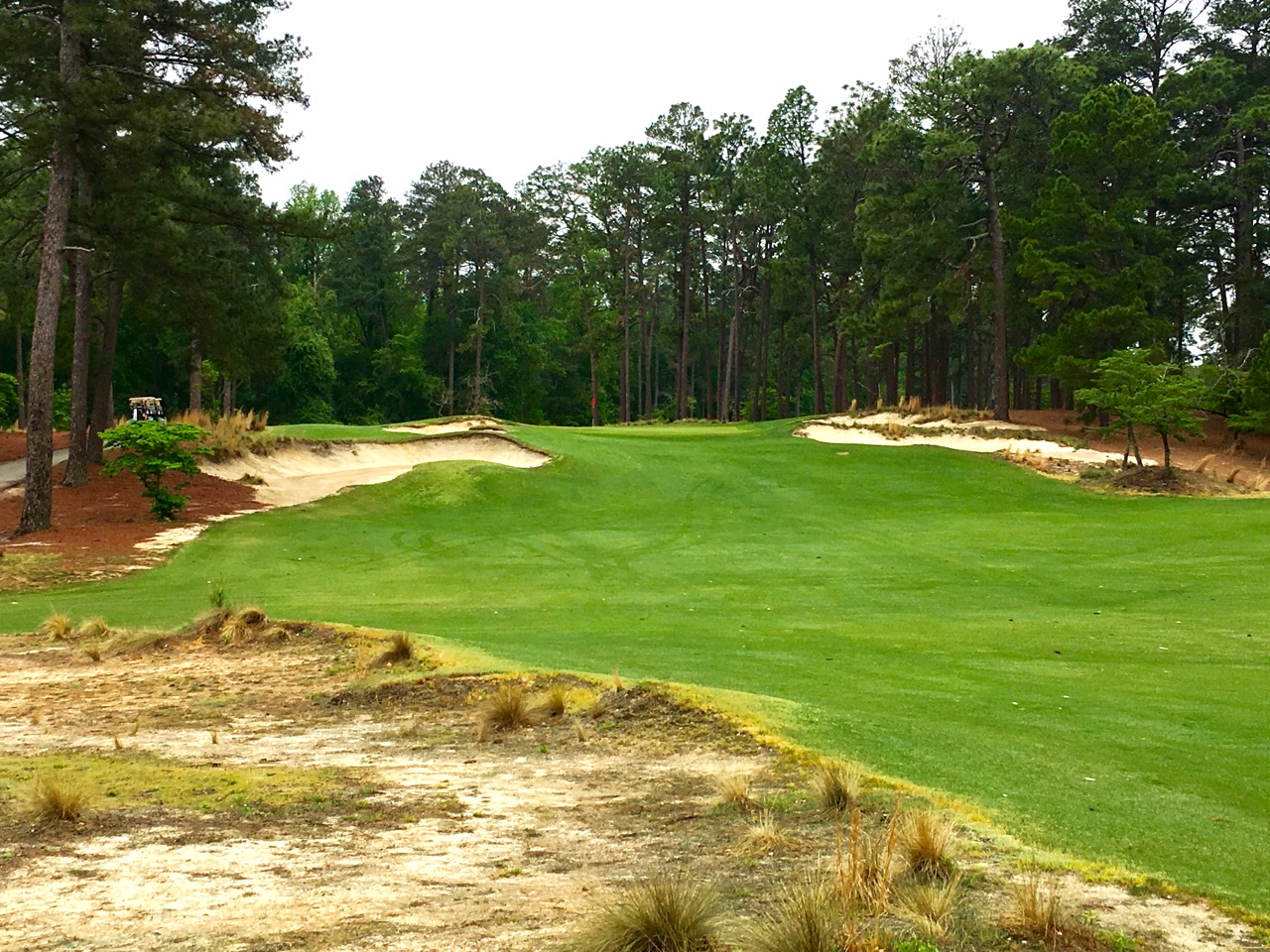 Trying to describe the essentials of good golf course routing calls to mind Justice Potter Stewart's old brief about classifying porn — I can't define it, but I know it when I see it.
Bad golf course routings can be spotted miles away but truly great ones can be sublime. You often don't realize they're great until you've been absorbed by them, often in mystifying or disorienting ways.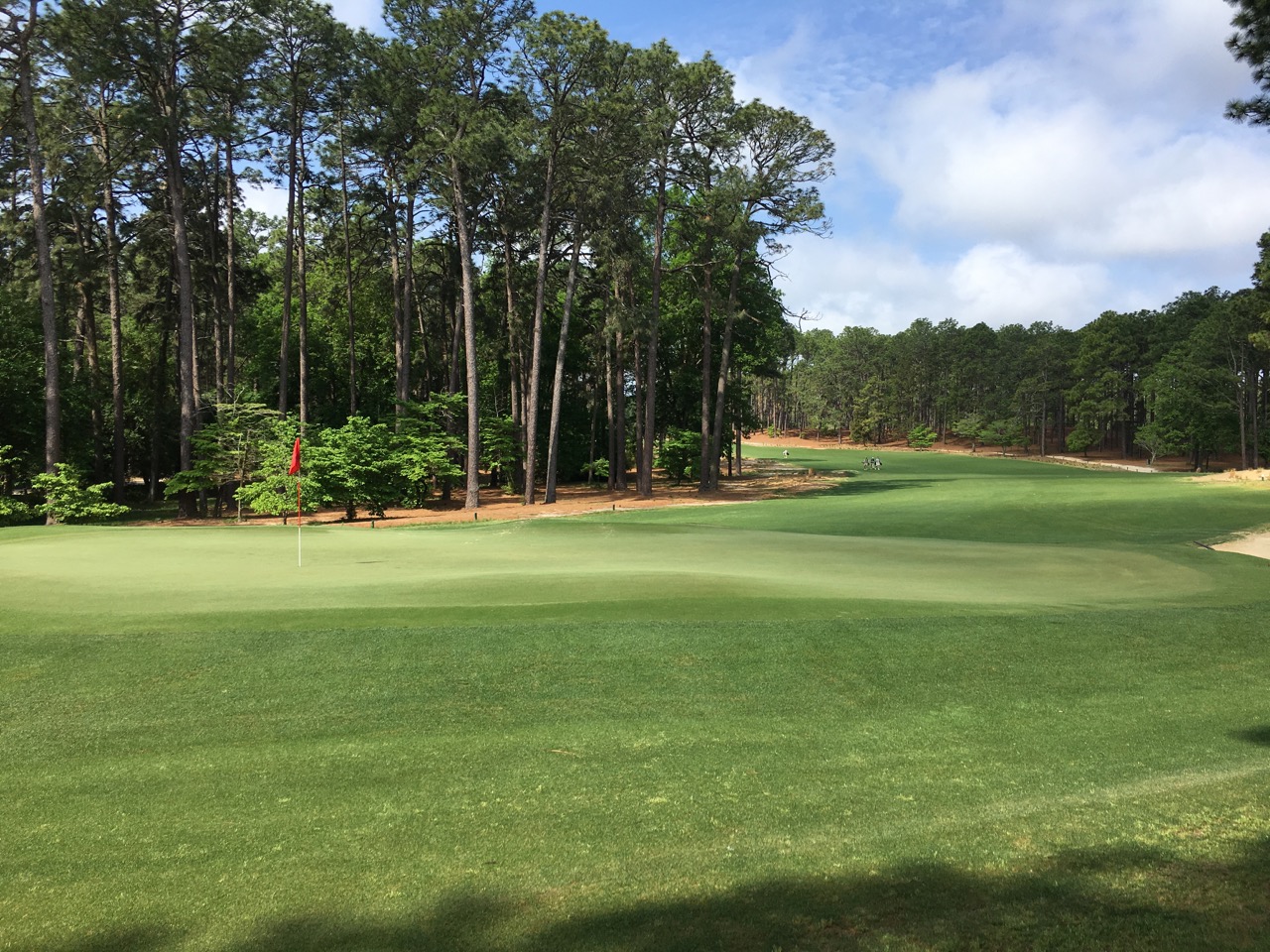 There's a wonderful moment midway through the first nine at Mid Pines that you realize this routing is special. The course sits on a relatively small, cloistered property that slopes toward wetlands on the south side. The gorgeous first hole cuts through the center section hitting a tantalizing note, previewing themes to come as it moves downhill then back up through the North Carolina pine barrens to a green benched into a hillside.
The next few holes work along the outer perimeter on the bog side, culminating at the 4th, a short uphill par-4 that goads you into gobbling up yardage with the driver — especially damaging are misses to the right — when laying back short and left leaves a more sensible, full wedge approach into the length of the deep, narrow green.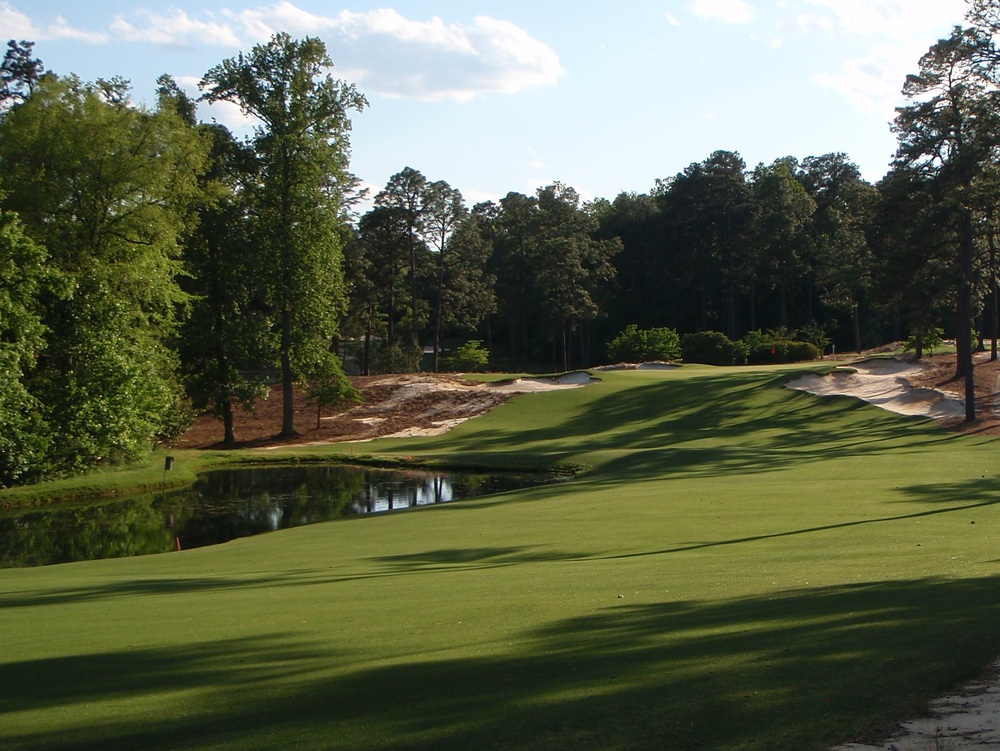 The par-5 5th doubles back the opposite direction from a high tee. When you reach yet another beautiful elevated green (set behind a ferocious 15-foot deep front-right bunker) you're back in the meat of the routing at a junction where several holes connect, though it was never clear you were actually returning to someplace you'd already been.
Donald Ross used this twisting, looping sleight-of-hand several times at Mid Pines, turning and turning the angle of play until the holes have formed a circuit, sometimes crossing against another intersecting circuit of tee and green complexes.
It's generic to say Ross was a master at routing golf courses, but you start to understand why people do say it after studying courses like Mid Pines. It's a clinic on finding natural elevations and pockets for greens, layering holes into small irregular spaces and maximizing visual aspects. The movements are always direct and fresh, weighted with a constant sense of plunging into new territory and back.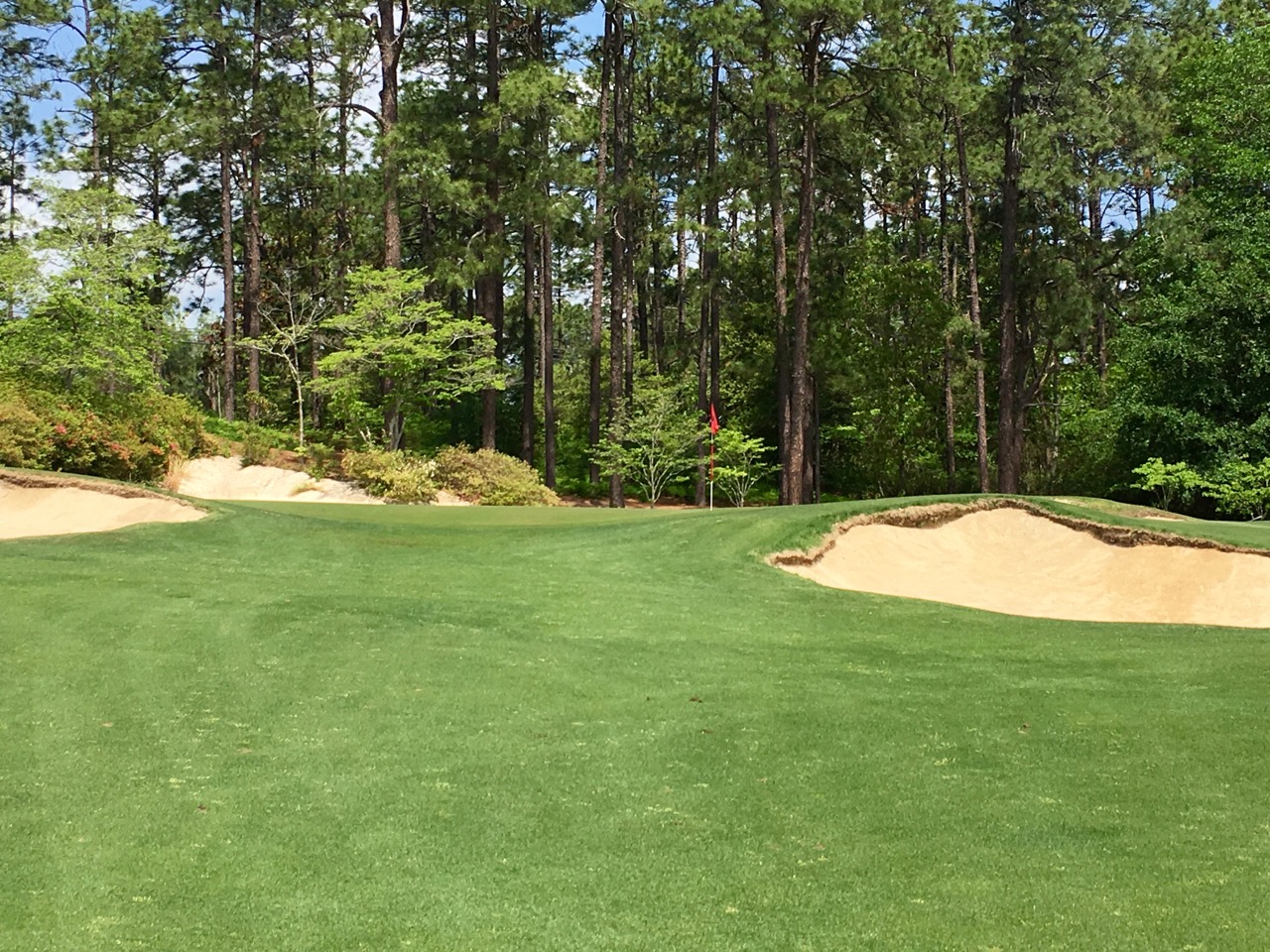 In 2012, Pine Needles Lodge & Mid Pines Inn hired designer Kyle Franz to restore features and functionality that had become eroded and sterile over time. The most striking element of the work is the reclamation of width in the fairways and how Franz transformed the border areas along the pines back into a natural scruffy, sandy state. Franz also glamorized the bunkers by dragging their low edges into the native sandscapes and creating high, flashed faces. With a small, national membership of proficient players, Ross originally conceived of Mid Pines as a more challenging diversion to the Pinehurst resort courses. The depth and steepness of the current bunkering pays homage to that intent.
The terrain and vibrant, sandy composition of these holes screams Pinehurst. The routing oozes intimacy and intrigue. And as well as any course in the region Mid Pines telecasts a precise sense of place.
It will never have the championship bona fides of Pinehurst No. 2 or the forking path mechanics of that design's green complexes (however they came to be). No. 2's greens — and the inexhaustible dilemmas they provoke — exist in an almost magical, metaphysical realm where all outcomes are possible.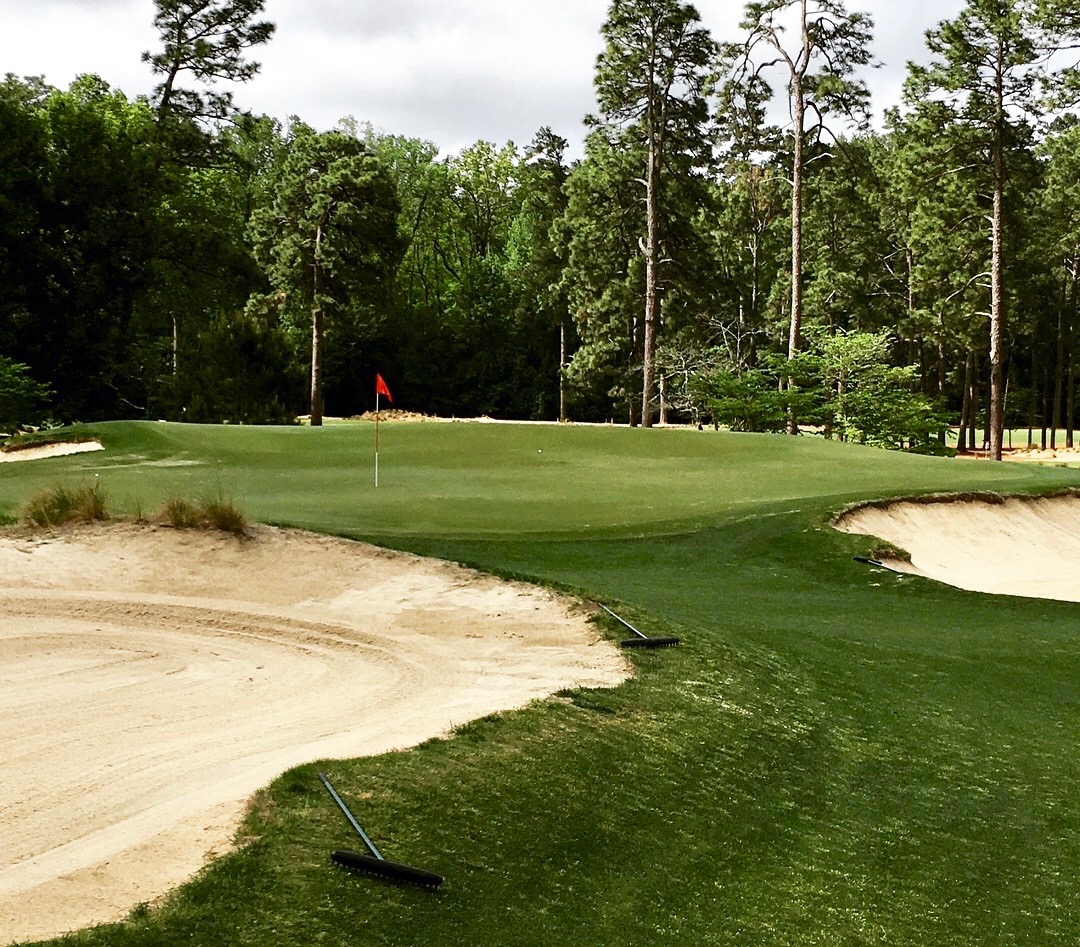 But No. 2 will never possess the taught musicality of Mid Pines, or be able to just sit in the pocket like it does, in a groove, swinging from verse to chorus to bridge. No. 2 moves differently, inevitability, like a powerful cart animal plowing forward through a progression of necessary corridors and couplets. It's a good routing over good land, but one that serves at the pleasure of its holes.
The Mid Pines property directs the holes and makes them components of an overall character. The progression beginning at the lovely par-3 8th is like the reveal of a long folded tapestry, each new section stretched out and unfurling elegantly from the previously hidden layer.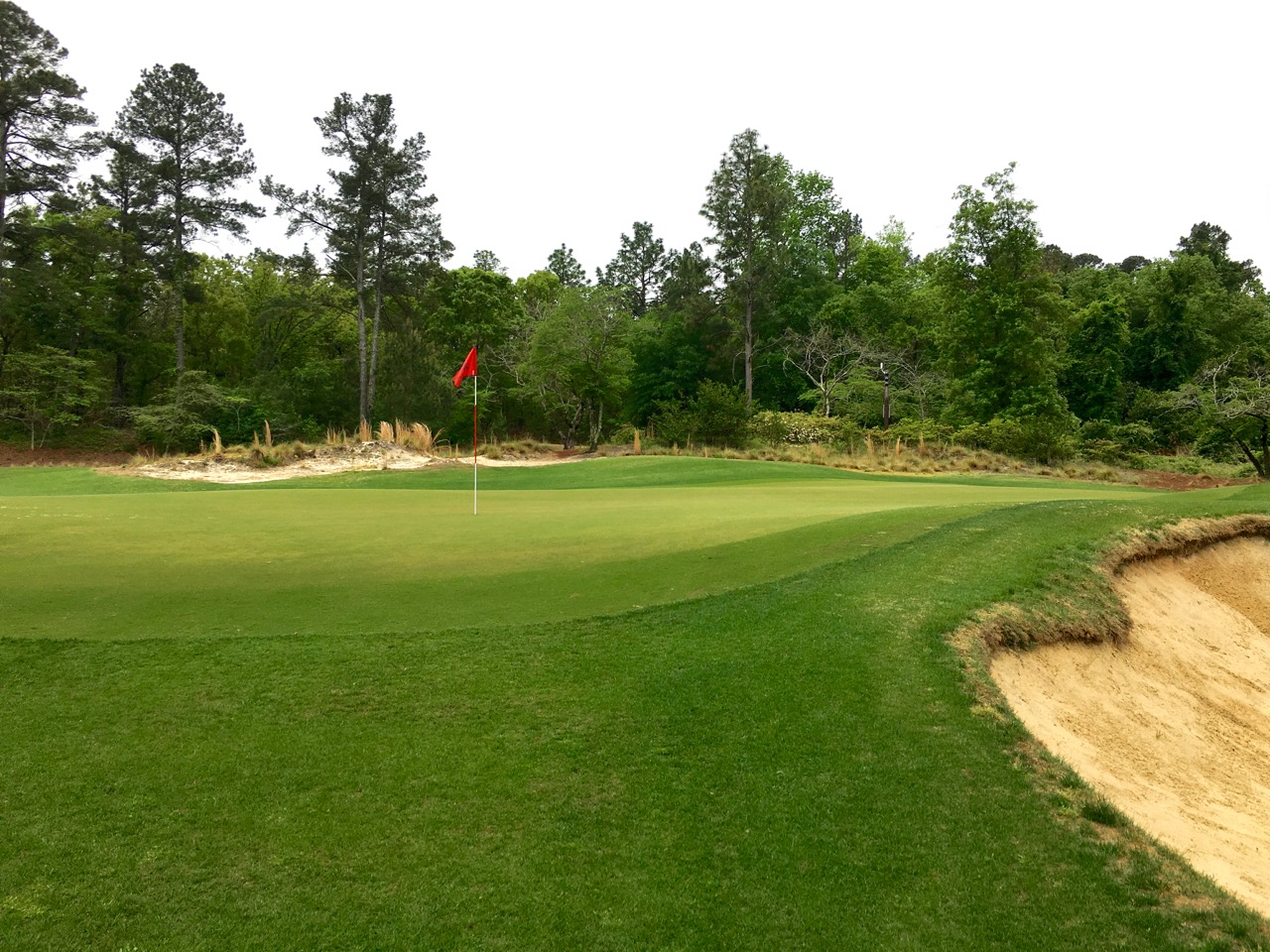 These holes switch and angle in new directions, climbing toward the 14th green slotted into a hillside, then work up to the 15th tee with a majestic view over the tumbling, dipping fairway. The par-5 works back toward another masterfully benched green, leading to a short climb to the 16th tee and the most memorable downhill drive on the course.
Mid Pines may possess few brilliant individual holes — maybe none, in fact. But good routings make good holes, and the routing here makes each element of the course purposeful and sublime.
Perhaps I still haven't adequately defined what makes this a great routing. Oh well — as I said, it's almost impossible to do. So let me just finally put it this way: to my tastes, Mid Pines is unquestionably, pornographically great. (96)
Southern Pines/Pinehurst
Architect: Donald Ross/Kyle Franz (2012)
Year: 1921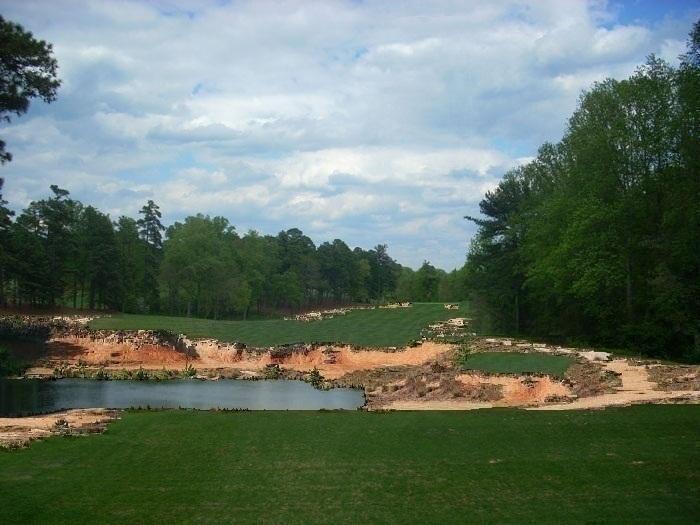 Please follow and like us: