Bringing the Sticks–Golf in Atlanta
Bringing the Sticks–Golf in Atlanta
Let's get one thing out of the way — the greater Atlanta area in one of the weakest golf markets of all major American cities.
Which is ironic because, for many people, Georgia represents a very specific type of American golf ideal.
Most of that feeling, of course, is tethered to the fantasy of Augusta National. It isn't so different than how the rest of us might view Pebble Beach and imagine a California full of courses dancing on ocean cliffs, or a Florida overrun with telegenic target golf and unique island greens. It exists, but it's not reality.
Fairways slaloming through pines and dogwoods, blooming azaleas, mirror-faced ponds, the ghost of Bobby Jones — this basically represents about two golf courses in Georgia. The majority are like they are anywhere: packed into residential developments, strung behind backyard fences via miles of cart paths, overcrowded, often struggling, shaggy, overpriced, sometimes over-designed, exceedingly normal.
In other words, when thinking about golf in Georgia, or specifically golf around Atlanta, think of the rule and not the exception. For a city the size of Atlanta, the overall access, quality and affordability of public access desperately underdelivers.
The problems are manifold: suburban sprawl, traffic, developer myopia, the colonization of middling residential courses, clay soil which results in poor drainage, uncompromising terrain, invasive tree cover and undergrowth, and a lack of aesthetic originality. Of course, I'm biased — I live here.
Atlanta is also a private club-driven market, and the preeminence of a handful of exclusive clubs influences how public courses are perceived, maintained, developed and designed. Too many courses chase a pre-conceived program or presentation, and too few reflect the natural aspects and limitations of the land they're on and the demographic they're in.
Most of the public and private golf is spread throughout the rugged foothills of the expanding northern suburbs, with more courses to the east and northeast and, to a lesser extent, the west and south. Playing anywhere outside one's neighborhood requires a commute, and the particular destination and time of day can add significant time and frustration to that commitment.
Offerings intown, the area that lies within the I-285 perimeter that circles the city, are few. The handful of inexpensive city courses, however, actually have solid bones and display some degree of authentic charm — notably Chastain Park (fka North Fulton) and Browns Mill — though poor conditions, spartan operations and slow play often plague them (Browns Mill is also located in a section of Atlanta where many people aren't comfortable parking their car in for extended periods of time).
One of the most intriguing new projects is the conversion of the Bobby Jones Golf Course, an old and worn out intown course, from 18 holes into a reversible 9-hole course with a modern practice facility and short pitch and putt course.
With the worst having been said, there are some venues worth pursuing. In different ways, these courses find ways to add umami to the commonness that dilutes the flavor of public-access golf in Atlanta.
The First Five
Cobblestone Golf Course (Ken Dye, 1993)–Located in the northwest suburb of Acworth, Cobblestone looks like a product of its era. There's a certain manufactured appearance defined by fairway benches, greenside mounds and flat-bottomed bunkers with grass faces, but it works well on a tight site that slopes down toward Lake Acworth. The course is lovely (8 holes touch the lake shore), sports a nifty routing with almost no surrounding real estate, possesses a rhythmic variety of hole lengths and concepts, and pronounced but not severe elevation changes. If I were limited to just one area public course to play repeatedly, Cobblestone would be it.
The Frog (Tom Fazio, 1998)–Tom Fazio didn't establish his empire by building affordable public courses (by affordable we're talking $50-$60), but he created a good one here. Like Cobblestone, the course sits by itself (about 45 minutes due west) with no housing around it, flowing over a large property with few limitations. Simple, attractive and graceful par-4's like 1, 2, 6, 7, 12 and 17 aren't surprising, but thought-provoking holes like 5 and 18 are. The greens feature slight crowns and nice contouring, and the bunkering is assertive without being overcooked. A top notch course.
Reunion Country Club (Mike Riley, 2001)–Now we're getting into some of that north Atlanta terrain funk. Riley, an Atlanta-based architect, didn't have much to work with beyond hillsides, forests, ravines and some residential corridors and restrictions. But due to some good routing decisions and bold architectural strokes (including a par-5 with alternate greens) he packed it full of excitement while mitigating much of the usual severity. It doesn't all work all the time but there's more guts in this design than in any remaining ten public courses combined.
Legacy on Lanier Golf Club (Joe Lee, 1988/Billy Fuller, 2009)–Scenery was never the problem with this course, with well over half its fairways and greens sitting atop Lake Lanier. But a recent renovation added length, new holes and some needed attitude to the design. I'm not a big fan of some of the bunkering, but there's plenty of action off the tee with some tantalizing drives across corners of water, and the inland holes are actually as engaging as those on the shore.
Cherokee Run Golf Club (Arnold Palmer Design, 1995)–A course like Cherokee Run wouldn't rate very highly in a better public golf city like Denver or Chicago or even Phoenix, but in Atlanta it gets noticed for pure thrills if nothing else. Located 30 minutes east in Conyers, the course keeps throwing objects and obstacles in your path: hills, ravines, rock walls, granite outcroppings, drop-shot holes, island fairways and greens tucked behind streams and ponds. It's a bit of a hot mess but one thing's guaranteed — you won't be bored.
Worth a Look
Woodmont Golf Club (Robert Trent Jones, Jr., 1999)–Woodmont's not far behind the first five, and if you absolutely hate gimmicky golf on difficult ground, go ahead and swap it out for Cherokee Run. The course is broad, smartly bunkered and much more relaxed conceptually than some in the first tier.
Mystery Valley (Dick Wilson and Joe Lee, 1965)–This is a vintage gem. It's a little rough around the edges and not likely to impress the international traveller, but with the natural rise and fall of the tree-lined fairways and unforced composition of holes, Mystery Valley gets more and more priceless with each passing year.
Chastain Park (Chandler Egan(?), 1937)–There's some uncertainty about the true origins of Chastain, but it doesn't matter. It's a warm, throwback course in the heart of Buckhead that will remind you of hoofing your bag when you were 12 years old, at least if you came up on scruffy, lovable muni's like I did.
Crystal Lake Golf & Country Club (Denis Griffiths, 2006)–In spite of a routing that's all over the place this golf course, 30 minutes to the south, is a blast off the tee with fast spacious fairways, some tasty short par-4's and challenging line-of-play bunkering. If Grifiths would have bothered to contour the greens at all he might really have had something here.
Bear's Best (Nicklaus Design, 2002)–Remember the hype when the Bear's Best courses opened here and in Las Vegas in the early 2000's? This one is much more palatable now that it's no longer inflated with self-importance. It lacks continuity but so do most north Atlanta courses, and a few really strong holes and a nice property overcome the tired "all-star holes" concept. The 13th, 14th and 15th are a particularly good run of holes.
Private Eyes
Don't turn down the opportunity to play Atlanta's marquee private courses, especially Peachtree Golf Club, which for setting, history, scale of property and mesmerizing green complexes is in a category by itself.
But when it comes to elite architecture and historic designs, Atlanta is a black hole. The Tom Bendelow/Donald Ross East Lake Golf Club, the city's most historic venue and site of the TOUR Championship, is essentially a Rees Jones course today. Jones also built the course for another of Atlanta's most venerable societies, the Piedmont Driving Club, albeit roughly 100 years after the club's founding (located near the airport, it's also cruelly distant from where the majority of members live).
Atlanta Athletic Club (1967), Atlanta Country Club (1966), Ansley (9 holes 1912)/Settindown (1988) and the Capital City Club Brookhaven course (completely reconfigured by Bob Cupp in 2006) are great experiences, but offer nothing that compares with the level of golf you find in Philadelphia, Chicago, Minneapolis, New York, San Francisco, Los Angeles and almost every other major city. Once you get past the luxury, conditioning, clubhouses and pro tournaments hosted, I'm not convinced they're the best places for pure golf.
If I'm picking a venue for a considerably higher level of golf and architectural interest, I'm going to either The Standard Club, Capital City's Crabapple Course, Dunwoody Country Club or Rivermont Country Club.
Though surrounded on all sides by development, The Standard Club is an oasis, with Mike Riley's bold greens and highly aesthetic redesign of a dated Arthur Hills course roaming a spacious site with little interruption.
Capital City's Tom Fazio-designed Crabapple Course similarly sits on what feels like virgin, limitless land north of Alpharetta. Best known for hosting the 2003 WGC-American Express Championship, won by Tiger Woods at just -6, it's both lovely and full of options, with wide fairways, slope-shouldered greens and attractive native areas in between holes.
Bill Bergin remodeled Dunwoody's greens and bunkers in 2015. This is another surprising property with beautiful core holes and graceful elevation changes located, unexpectedly, right in the center of the northern suburbs with high-character holes that show a balance of brawn and elegance.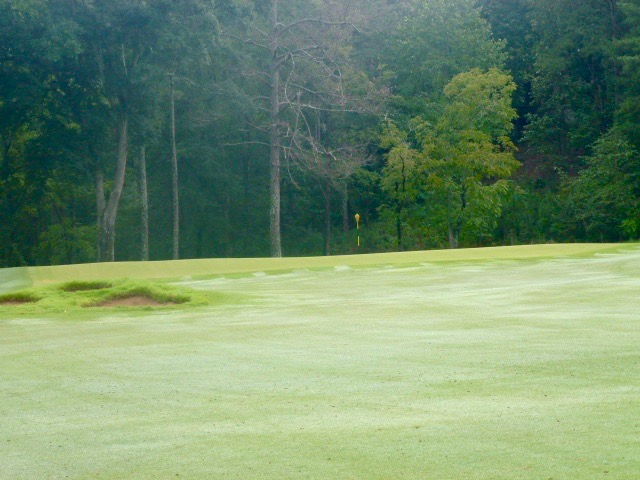 Mike Riley also renovated the old Joe Lee-designed Rivermont course in Johns Creek, this time installing classic hole concepts (a great Redan; a formidable Winged Foot-inspired putting surface, etc.) — as well as some bold fresh ideas — into formerly common, ordinary holes. Perhaps the metro area's most strategically engaging design, the owners have been known to accept outside play to those who display an interest in high level architecture.
A Word About Some High Profile Places…
Chateau Elan–This winery and resort, with three 18-hole courses designed by Denis Griffiths (The Legends is private), is one of the Atlanta region's most popular. The golf is solid and pleasant if not particularly novel, with clean and well-presented holes strung over wooded (and residential) elevations. Only the most discerning will be disappointed, though only the most accepting will be dazzled.
Stone Mountain–There are two 18-hole courses at Stone Mountain, a famous entertainment and recreational playground near an enormous granite outcropping east of Atlanta. The original Robert Trent Jones holes are solid though not very memorable, and the John LaFoy holes, added years later, are questionably executed even when running along the serene shore of a large lake. Play at your own risk.
Echelon–Echelon was one of the most upscale developments to open just before the economic and housing crash of 2008. Originally intended to be the Georgia Tech Club, this Rees Jones-designed course never got off the ground in spite of some positive — and absolutely wrong — reviews. Play only if you like cart-ball courses hammered into uneven and unforgiving landscapes.
Longshadow–One of the market's most original and interesting courses was Longshadow, a Mike Young design less than an hour east of Atlanta. Fatally attached to a failed housing development, the property went bankrupt and closed a few years ago. Too bad — it was one of the few places you could take architecturally inclined visitors to show them thoughtful, well-crafted holes that didn't stink of cliched north Georgia golf.
The good news is that Young may be in the process of reopening the course, now that it's detached from the anchor of real estate. One can only hope.
Final Word
If you don't have the juice to get onto a lot of private courses you're going to find Atlanta a difficult, and probably unfulfilling, destination. There are more decent golf courses than I've listed here, but really outside maybe Cobblestone and The Frog you could group the next dozen or so in the same category.
Well-traveled players, in short, will not be impressed by the greater Atlanta public golf menu. For those seeking something more substantial and more representative of the southeast, take the most common advice: find the time to head the hour east to Reynolds Lake Oconee and, specifically, Cuscowilla.
Please follow and like us: