Winter Park — Revolution 9
Winter Park — Revolution 9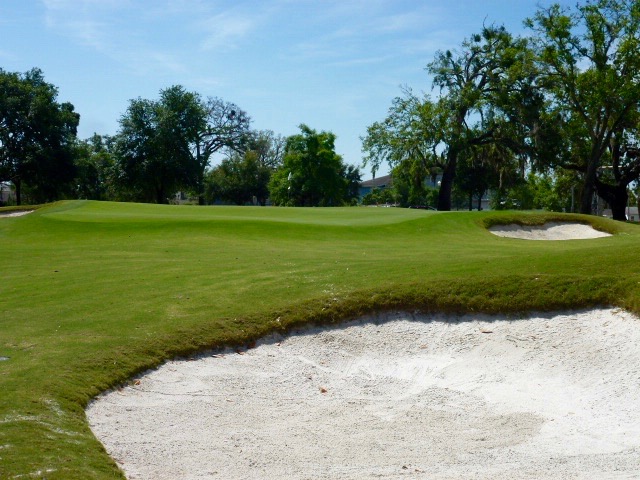 Jam on this:
A golf course snuggled as cozily into its community as a baby in a cotton sleeper. A circuit of kids, adults and dogs passing down neighboring paths. A place where everyone walks, either bag on shoulder or with a trolley. Holes of welcoming length and width, with not a blade of rough. Tight, compact turf sending balls bounding and rolling. Inventive greens with an array of pitch and contour. An old cemetery awaiting pull hooks. A passenger train that rushes by every 30 minutes or so.
I've described an ideal links village in Scotland and the most enjoyable, utilitarian blend of golf and everyday life, right?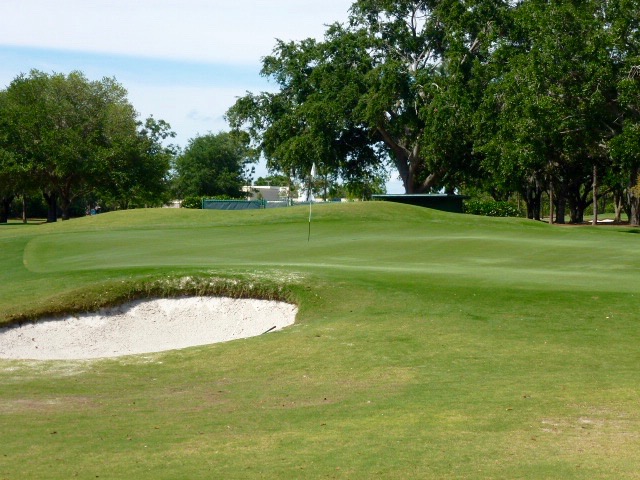 Sure, but I've also just described the Winter Park Golf Course tucked within the tree-lined envelope of an historic neighborhood 15 miles north of downtown Orlando.
Maybe you've heard of it. For a 9-hole course that measures 2,500 yards at most, it's received the kind of publicity — from magazines, blogs, the Golf Channel and through avid Twitter and Instagram acolytes — most courses three times its size dream about.
A full renovation of the run down 100-year old course was completed in 2017, and its startling new embrace of old principles and the minimal construction cost (read: under budget) turned Winter Park into a golf world cause célèbre. It also made builders Riley Johns and Keith Rhebb, itinerant next-gen shapers for architects like Tom Doak and Bill Coore, instant names in the small world of golf course architecture.
The hype surrounding Winter Park seemed preposterous. Surely this was a case of social media groupthink and hyperventilating "likes" by internet cool kids, not to mention bloated patronage from a sympathetic media company. I approached with skepticism, ready to be underwhelmed compared to the gushing accolades.
Then I stepped on the first tee. My heart nearly melted.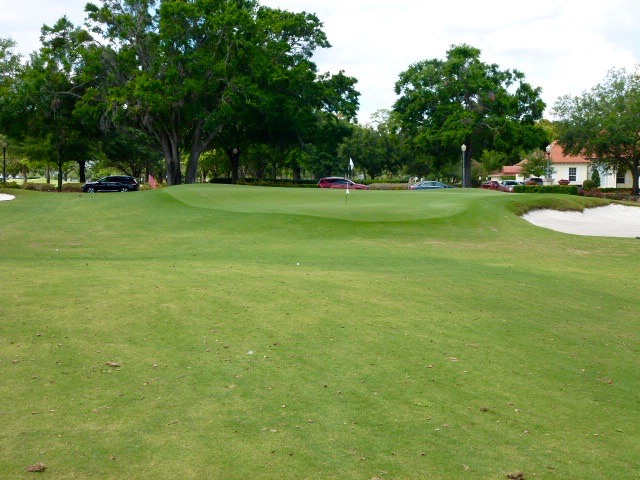 A par-4 of just 240 yards from the rear markers, the 1st at Winter Park — broad, effortless, baiting —  instantly became one of my favorite opening holes. With a fairway that extends left all the way to the far edge of the neighboring 9th hole and a residential street, Webster Ave, bordering the right, you can almost hit it anywhere. It asks but one basic, tantalizing question: what you got?
At something less than a driver for many players, the temptation is extreme to try to shoot the first shot of the day up through the welcome opening of the green, aided by the slick, bouncy ground. It's almost impossible to resist taking a shot, but what you don't realize (the first time) is that any drive placed left or right of the green — or long, or in one of the bunkers — is dead.
The green is popped up (as are most here) with escalating levels and shoulders that roll off the front and left. Pin-high right is effectively a one-shot penalty since there's almost no way, pitching over a bunker, to keep the ball on the green. Left is not much easier.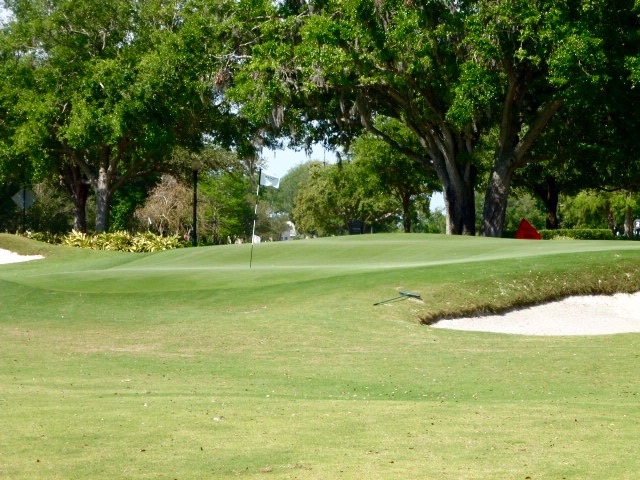 The best play would seem to be to lay back and buy a good angle from the left side, and yet, while you know this intellectually, the next time you stand on the tee the urge to try and punch one up and on will not have waned.
The hole is reminiscent of the 18th at St. Andrews, with a universe of short grass left and a small Valley of Sin-like depression in front of the green — and yes, I've just compared a course in Orlando to the home of golf. But for such a small, street bound property there's an almost shocking amount of lateral space and playing lines.
The 300-yard 5th exemplifies this. The low, wide green is built with elevated left- and right-side wings, and when the pin is cut out on these sections it's best to pitch in from the opposite edge of the fairway. Appropriately there's enough width to allow the purchase.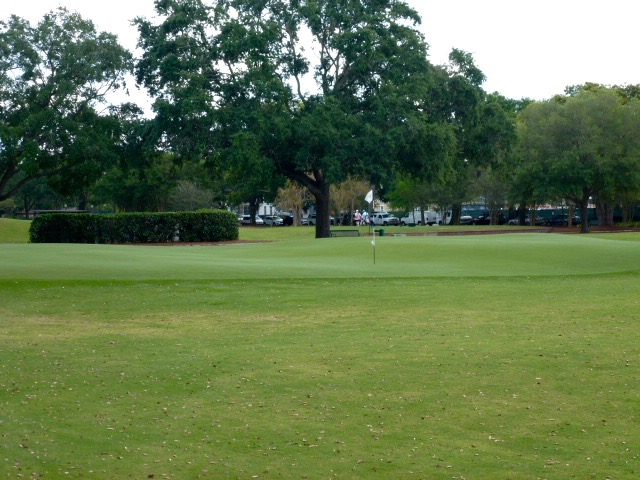 The following 262-yard par-4 is a stratitician's delight. A cluster of oaks lines the right side of a wide fairway that bleeds left into the 7th tee. The green, visible through the oaks, resembles the banked corner of a racetrack turning around a central bunker and offers a constellation of holes in high, low, left, right and central locations.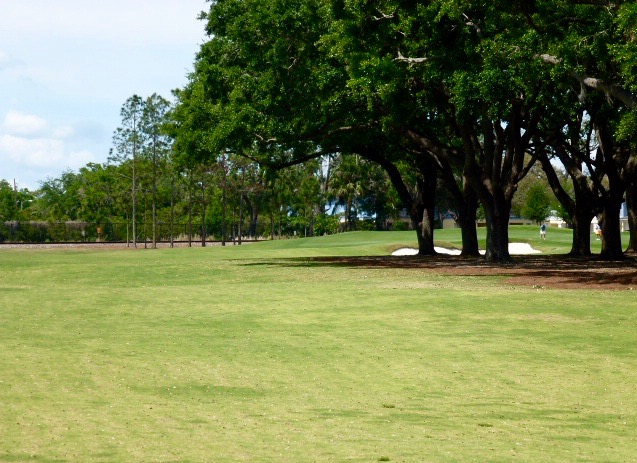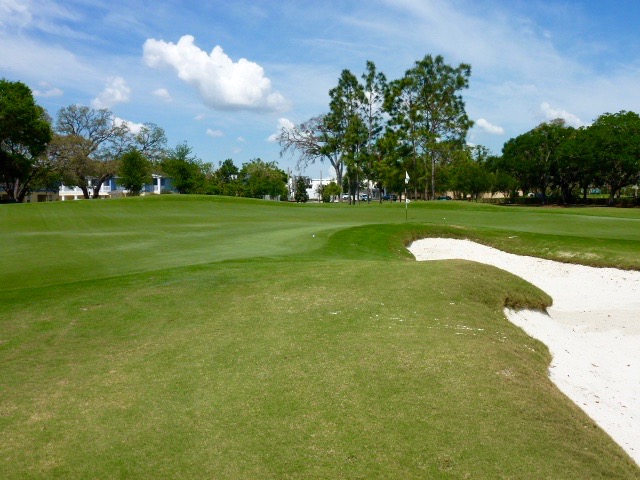 Pins cut on the left are best accessed from the roomy left fairway. You can also get to right hand pins from the left side by playing off the back bank. Bigger hitters can attack by taking the tee shot up and over the trees, either getting all the way to the green or leaving it in front for a short pitch.
The savviest of players will notice that the best angle into right hand flags is actually from as far right as you can go — over the trees onto the 5th fairway, leaving an unabated approach. It's stunning how much variety, and how many options, can be stuffed into such a short hole.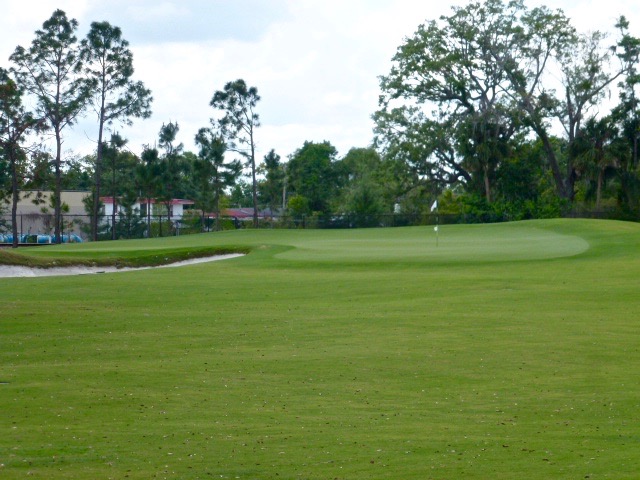 Or into such a small course.
The most pleasurable shots are usually not drives that run out 30 yards or zippy wedges. It's the short shots around the greens, the bump-and-run 7-irons and putts from 15 yards. Winter Park reminds us how great golf can ride on the back of creative greens, short, firm grass and not much more. In this situation, the modest length of the holes portend good scores yet the design of the elevated putting surfaces remains resistant to them.
At Winter Park you're quickly charmed by the intimacy of the setting, the price ($12 to $19), the way you can blade your ball around the course and be OK, the invisible barrier between neighborhood and your game and the idea that someone might walk from their front door to the first tee, carrying their bag the way you see done in Scotland and Ireland.
And underneath it all is a nagging question of what exactly the thing is about this kind of golf that's so appealing and yet so elusive.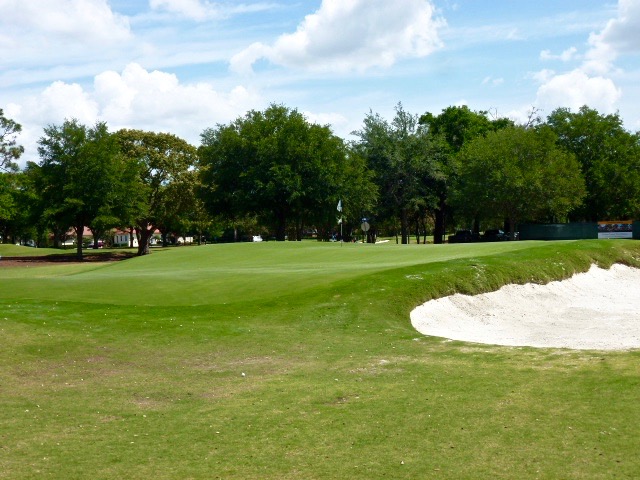 The answer is nothing. There's no magic recipe here. Winter Park merely stokes a simmering and expanding desire for golf that's more authentic and more accessible.
Rhebb and Johns's Winter Park redesign uncovers — or re-covers — an ethos of purity that's always existed but, over the course of decades, has become dangerously imperiled. The course presents an uncluttered vision of where public golf can go, and its community virtues are a pointed rebuke of the long, tedious path of poor choices and corporatization that's turned golf into a commodity to be packaged, branded and sold rather than a sport to be played and enjoyed.
It strips away everything that's superfluous to actually playing golf — no carts, no paths, no bag boys, no large clubhouse, no starter. The simplicity is a revelation, offering a natural expression of anti-materialism that stretches back to the earliest coastal links villages but seems dynamic here because it's now so rare.
Winter Park is not hype. It's real, walking golf that asks interesting questions if you're looking for them and a quick, friendly round if you aren't. It's the way golf used to be and can be again if we think deeper about what we want this game to be. It isn't faddish that so many different groups are turned on by it — it's encouraging. If more golfers embrace golf as it is here, as a recreation, this revelation might become a revolution.
After all, who needs Scotland when you have Winter Park? (92)
Winter Park/Orlando
Architects: John Duncan Dunn/Riley Johns and Keith Rhebb
Year: 1900/2017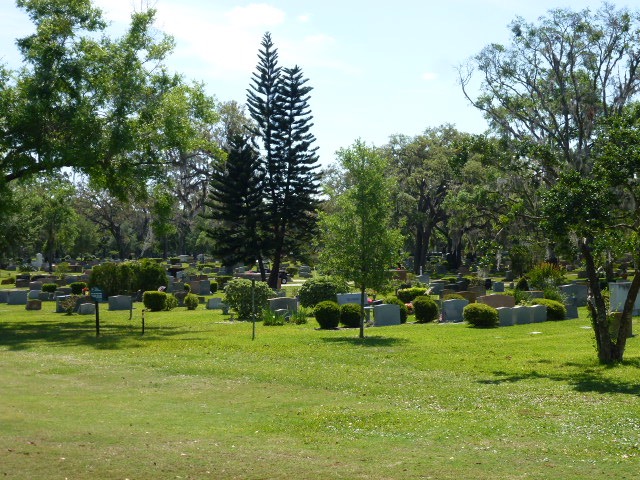 Please follow and like us: