Old Macdonald Had A Paradox
Old Macdonald Had A Paradox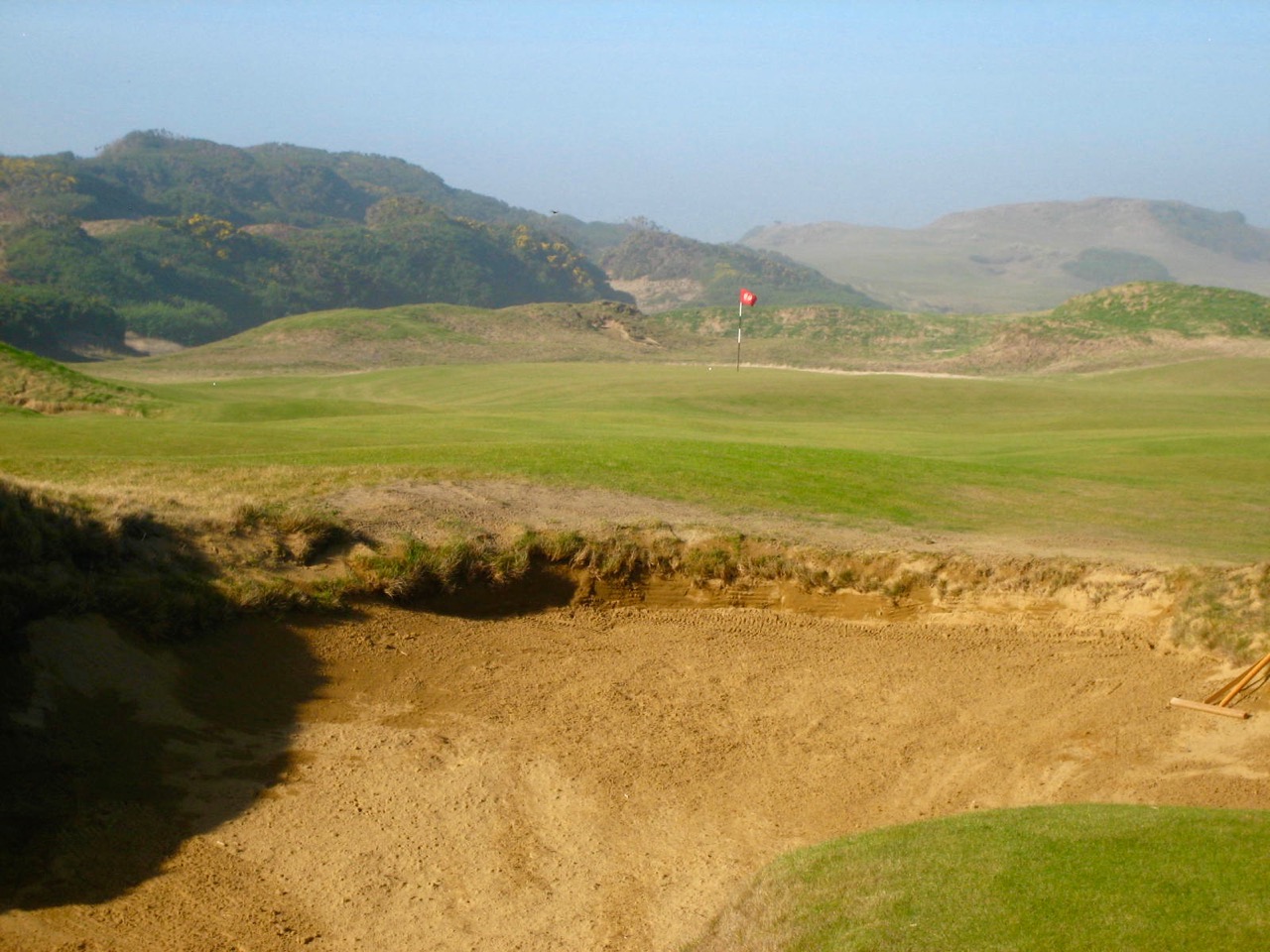 Expectations can be a hell of a thing.
No architect on earth would have turned down the chance to build the fourth course at Bandon Dunes. But whomever did get the job knew they were accepting near heart-attack levels of expectation.
It was obvious there would be extreme pressure to match the brilliance that already existed in Bandon Dunes, Pacific Dunes and Bandon Trails. There would also be a different kind of internal stress, pressure to not be the one whose stamp was on the Bandon course that finished fourth in a four-way a battle of public perception. Game on.
Arguably no one was in a better position to handle the variables than Tom Doak, who with Pacific Dunes had already produced one of the greatest courses in America, and could have, in the vein of Hugh Wilson, walked away from the business right then and still be considered legendary.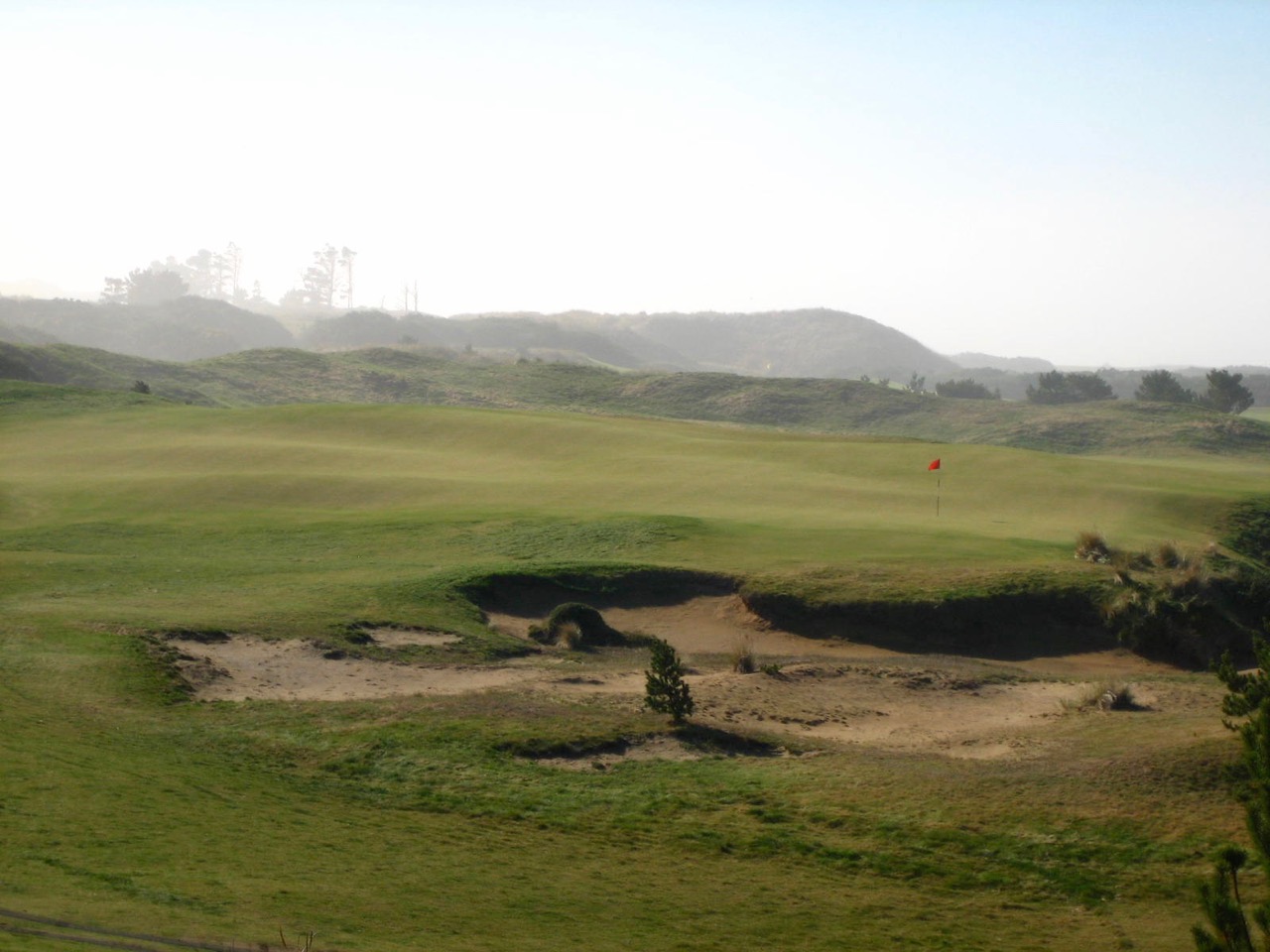 I'd like to know if Doak thought he'd gotten an assist or a handicap when owner Mike Keiser conceived of the idea to build Old Macdonald as an homage to the founding father of American architecture, Charles Blair Macdonald.
The prospect of creating a modern course inspired by the greatest old holes in the British Isles — what Macdonald did when he adapted a number of his ideal golf holes to the property at the National Golf Links of America in 1911 — and on such a spacious, sandy site, would be a once-in-a-career opportunity for Doak or anyone who loves the history of golf.
Then again, wouldn't confining design ideas to pre-existing models limit the possibilities of the property, which possessed attractive and very different characteristics than the other three courses? The site had such unique, abundant potential, would something profound and authentic be left on the table for the sake of novelty?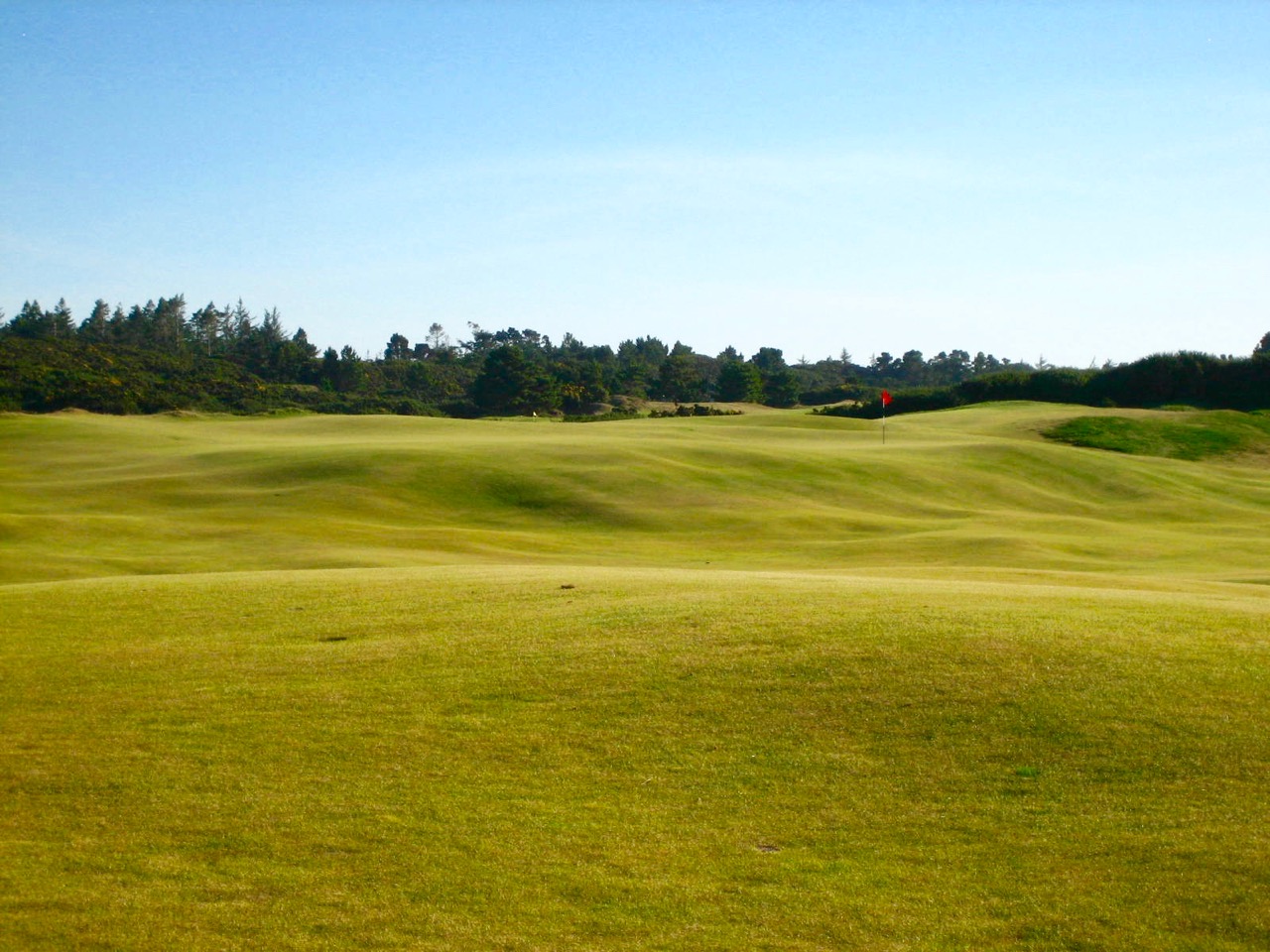 A mission statement to create a destination course inspired by the same methodologies that drove Macdonald 100 years earlier certainly added yet another level of expectation. Old Macdonald was already destined to be judged in relation to its property peers, as well as to all other sandy, dunes-based courses built in the last 30 years. Now it would also be judged against the idea of Macdonald's template holes. It could very easily succeed at both, or in one category and not the other. Failing both was another possibility.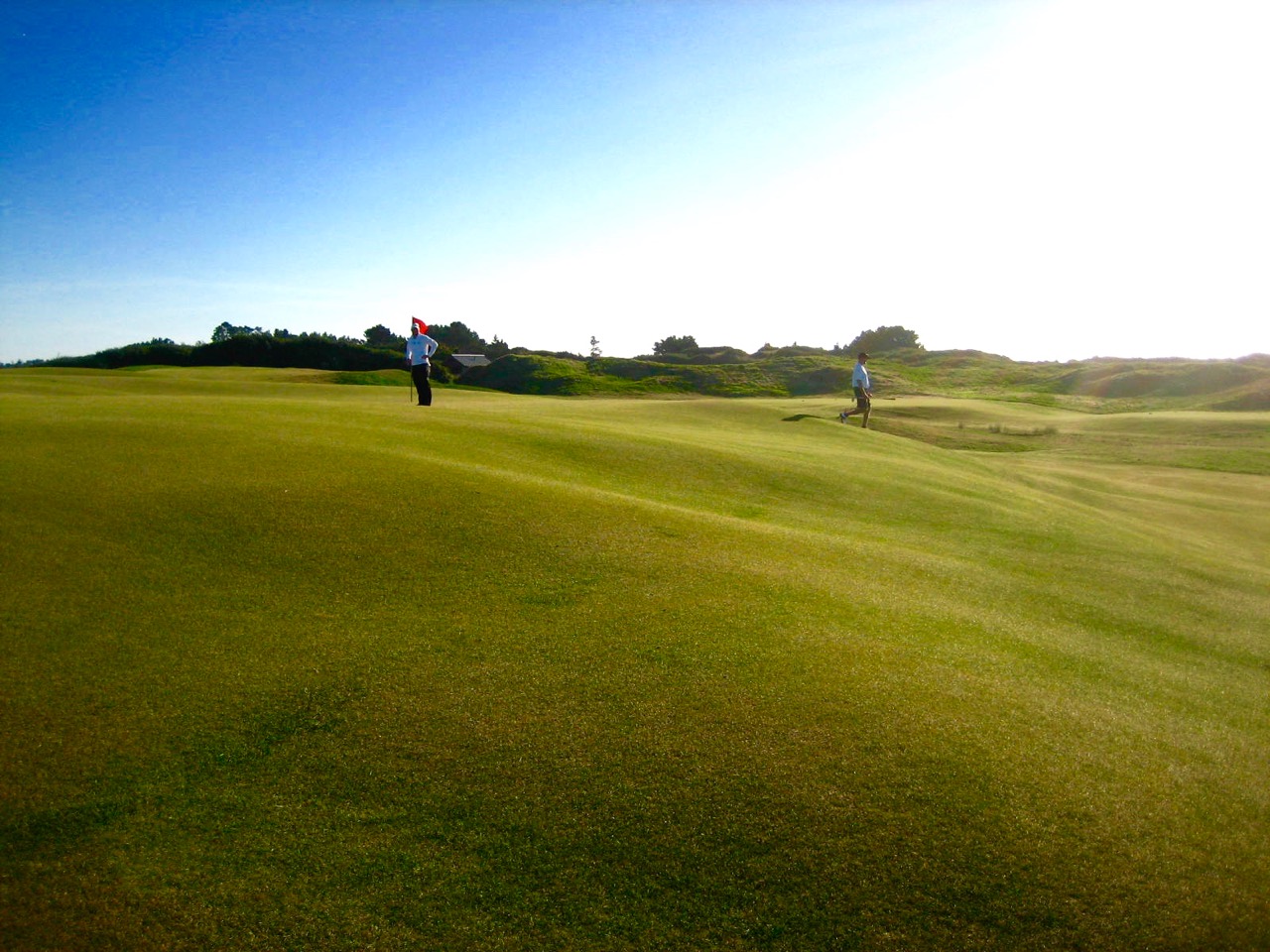 We can debate whether or not channeling C.B. Macdonald was a good idea, or if it was necessary to distinguish it in the Bandon rota. But for the moment let's just say this: at least it wasn't Seth Raynor.
In the decades following his death in 1926, Raynor was almost always considered in tandem with Macdonald (who lived  until 1939) and invariably referred to as the protégé (he helped build all of Macdonald's courses beginning with NGLA). But beginning in earnest in the 1990's, as more of his courses were brushed off and restored to their original state, Raynor's solo work has come to be admired and even revered, to an almost fanatical degree. The examination of his template holes (really, Macdonald's templates) became an obsession in some circles, and his concepts were frequently applied outside the context of his own designs.
By the time Old Macdonald was being developed, a kind of Raynor fatigue was setting in (I know I felt it) — not of Raynor himself, but of the kind of mania attached to his shaping and ideas.
As popular as Raynor's template style of design had become, using his work as a direct model at Old Macdonald would have been an error. Not only would the more formalized style of shaping clash with this rugged gorse and wind-washed site, it would have read as pandering to a popular trend.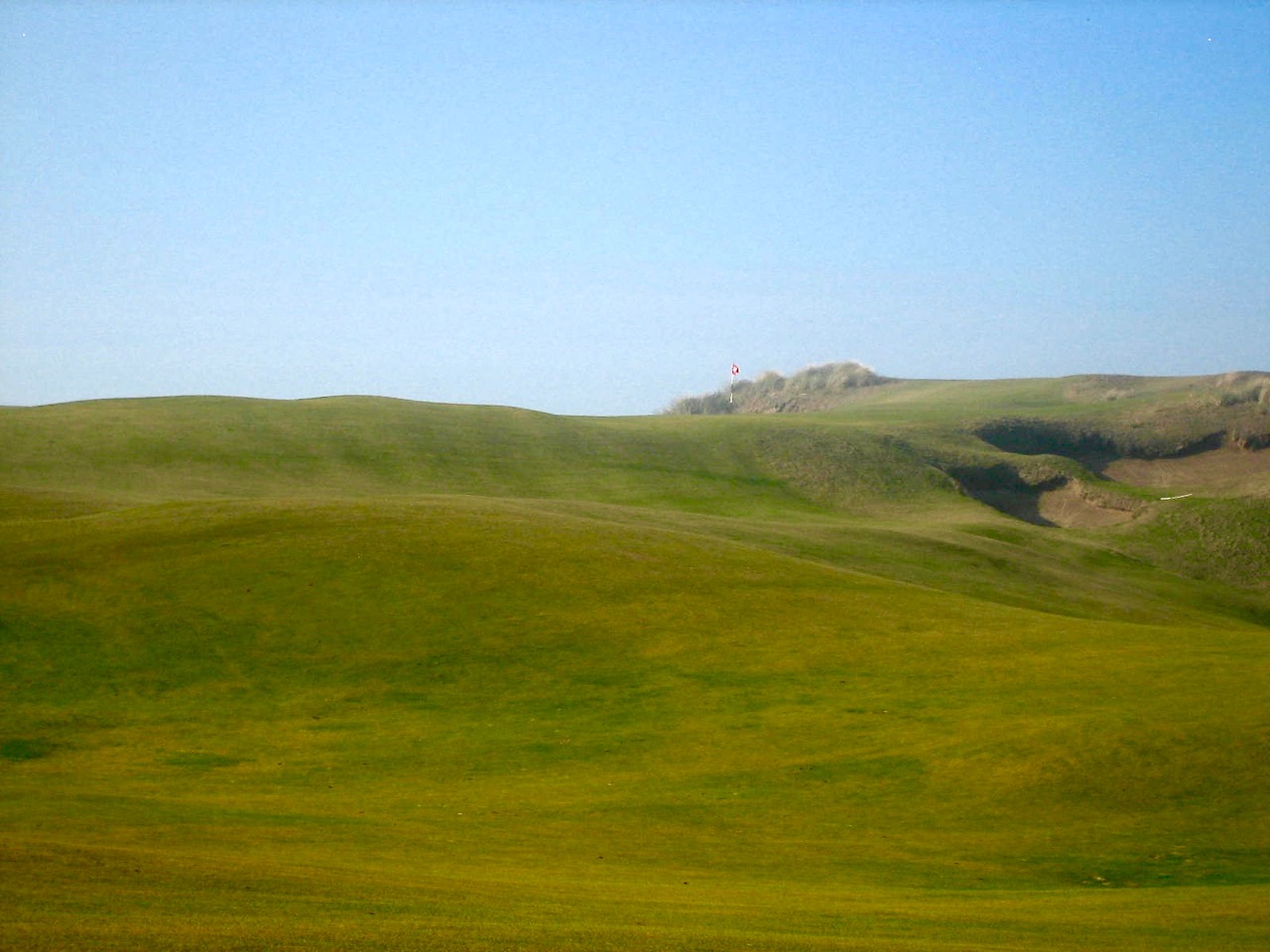 Fortunately, that's as far away as possible from Keiser's business instincts.
Macdonald's approach is more suitable to the Bandon land — his concept holes were highly adaptive, less patterned and more links reverent (especially at places like NGLA and the extinct Lido on Long Island). The dunes and natural undulations of the Old Macdonald property offered almost unlimited combinations of classic hole structures and an opportunity to explore variations on their established themes, as Doak and Jim Urbina (plus a team of consultants that included writer Bradley Klein) interpreted them.
As built, Old Mac's holes recall classic templates but aren't slavishly devoted to them. In fact, if you didn't know they were versions of Macdonald's ideal holes, you probably wouldn't notice.
The long par-4 16th, with a downhill drive to a tumultuous fairway and a blind second shot over a high dune to a sunken green fronted by a tub bunker, is pretty obviously an Alps hole, and an incredibly exciting one. And just about anyone can perceive the Punchbowl characteristics of the concave 18th green surrounded by a ring of dunes.
Observant players will recognize something profound in the bulging spine running down the center of the 4th, falling away into parallel troughs on either side (Hog's Back), and the deep swale through the middle of the par-3 8th's gargantuan putting surface is certainly referencing some kind of Biarritz idea though it's scale and shaping is unlike any Biarritz elsewhere.
But I doubt anyone on their own would peg the par-3 5th, with a 20,000 square foot putting surface cascading into steps and tiers, as a Short hole. The 13th with its whimsical, tilted green sleeping between dune wings is one of the best short par-4's at the resort, but you have to squint pretty hard to see its Leven bona fides. And I'm pretty sure the fact that the par-3 12th is a Redan escapes everyone who doesn't know in advance, which is actually refreshing because so many non-Redan par-3's are labeled as such.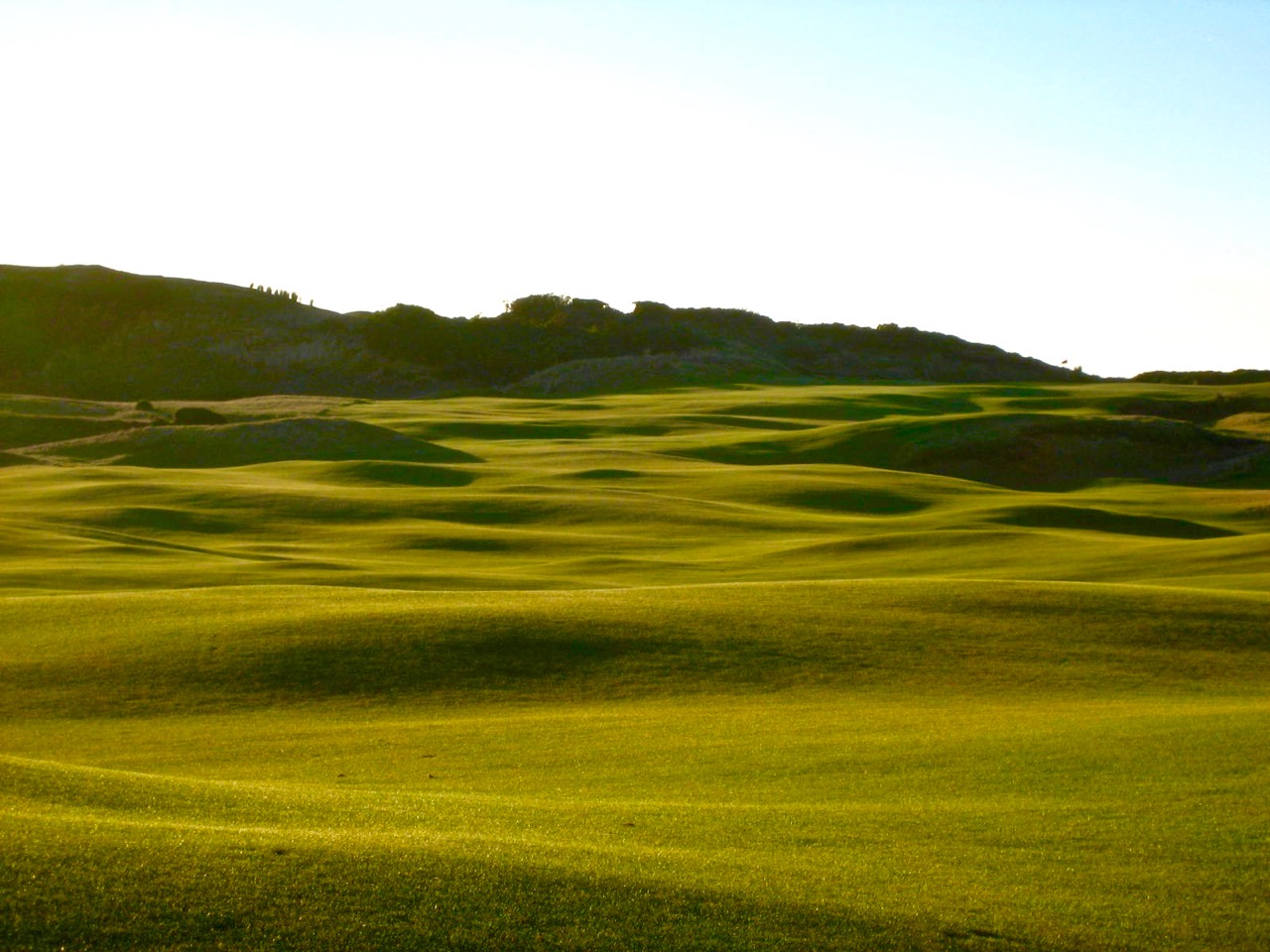 And so it goes.
But if it goes, we're back to the question, is the Macdonald theme helpful or hurtful?
Old Macdonald provides some of the best moments at Bandon Dunes. The tee shot on 3 that must carry a high dune line is thrilling — the ball lands on a baskside downslope and might propel all the way to the large green. As you crest the top of the ridge to see where it is, you get a full panorama of the 14 holes that play within an enormous, virtually treeless arena encircled with higher dunes, with portions of nearly every hole visible across the rumpled, buckling landforms.
The scale of the features — greens, fairways, bunkers — as well as the expanse of the arena, feels gargantuan, too big for golf, as if you've entered a land of Titans. Depending on the conditions and the swing of your stroke, it can feel and play almost excessive.
It's so much to comprehend, so beautiful and awe inspiring, it nearly makes the idea of Macdonald template holes feel insignificant. Or at least superfluous.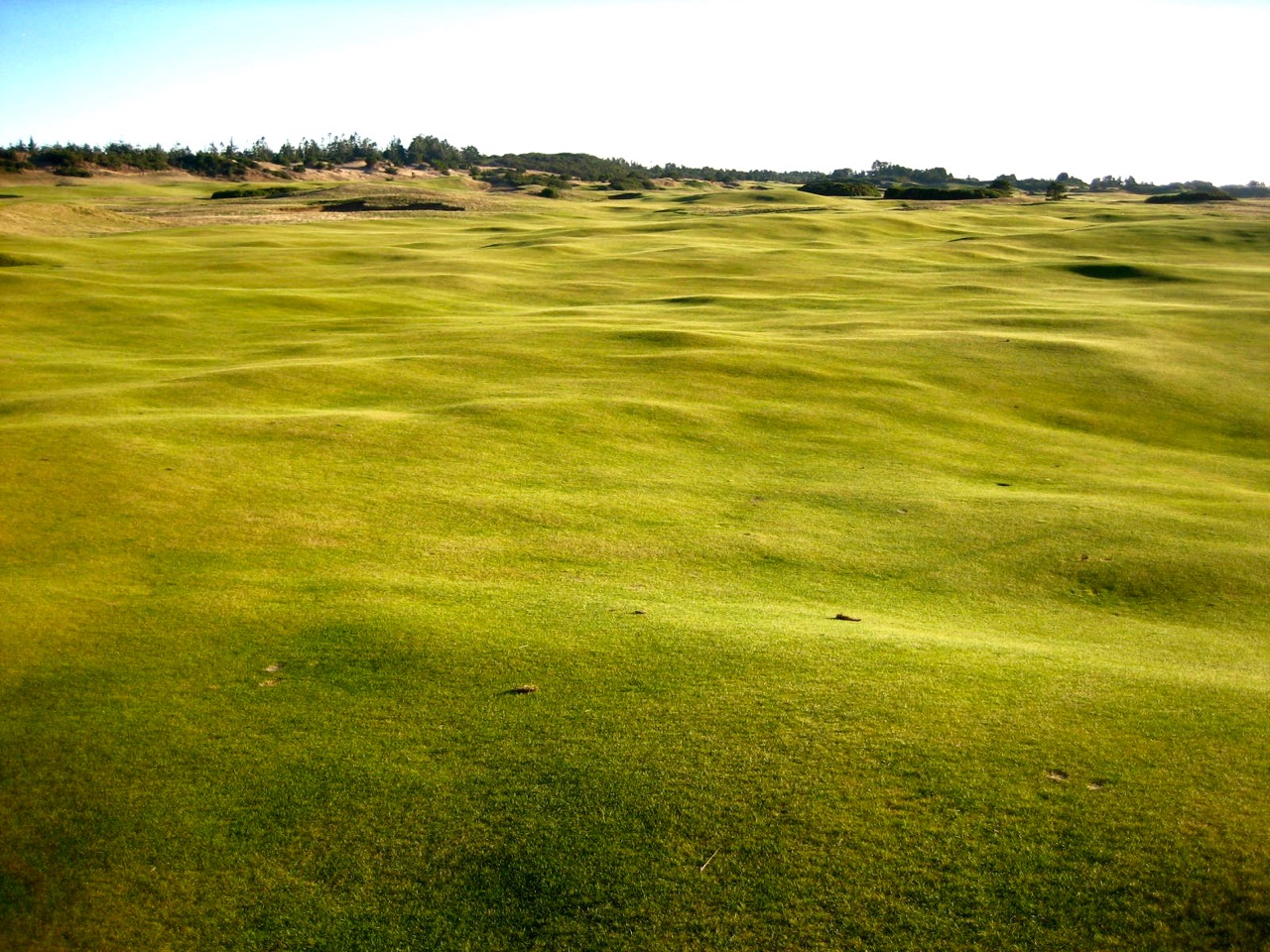 That's the paradox of Old Macdonald — the possibility that a great course is compromised by its attachment to a theme. The site and design don't need the added guidance.
I'm sure it was immensely satisfying for everyone involved to build and piece together Old Macdonald. But if guests need a crib sheet to know what classic hole versions they're playing, what's the point? And if they're particularly moved by a hole, do they credit Doak, or the template? And those who think it's too much — golf gone rogue — must find a way to reconcile to what degree the concept itself is to blame.
Ultimately golf courses are viewed through a very simple lens: they either work, or they don't. Causation and origin stories don't matter. There's no question Old Macdonald works, emphatically. The crispy turf, the bewildering micro and macro contours and free-form greens assure it a seat at the table of great, modern sand-based courses.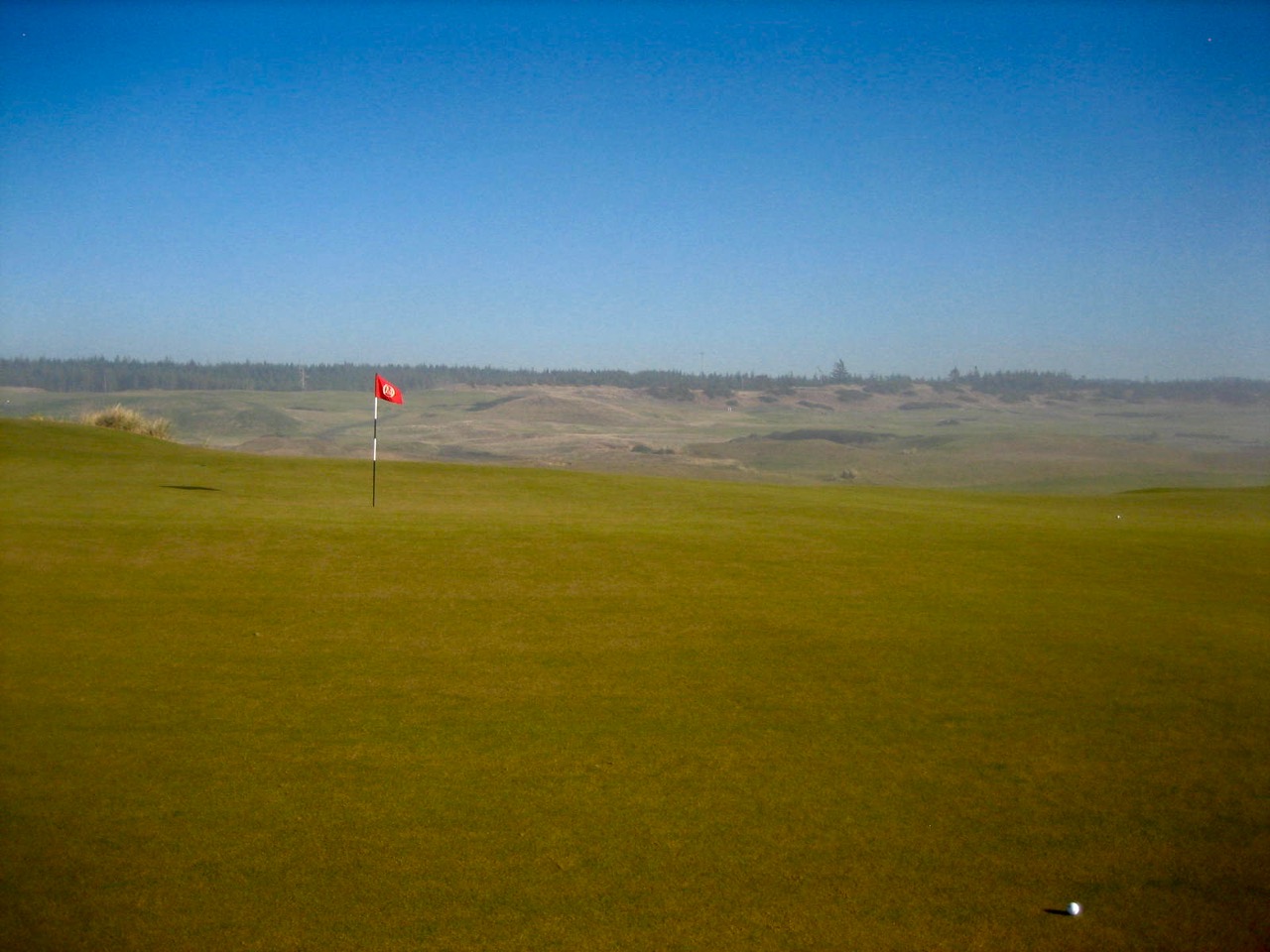 But there's also confusion. Knowing a hole is supposed to be something else rather than just what it is places an unnecessary filter on how it's experienced. No matter how good they are, templates arrive with a set of pre-conditions and can take an otherwise brilliant hole askew as you dig for the reference.
The design of Old Macdonald deliciously borders on the obscene and overwhelming, but the Macdonald theme deprives Doak the chance to take full credit. I'd like to compliment him on putting out something so bold and so different, but I can't because he's channeling Macdonald.
I'll always wonder what could have been made of this site if Doak had approached it the way he does his other best sites. Though there's not much room for improvement, I can't help but feel Bandon guests are deprived of a course that is overt, unapologetic and original. As much as I like the course, I wish Doak, Keiser and company would have mixed in some of their desired Macdonald character and kept it to themselves. Now that would have been a neat trick. (95)
Bandon
Architects: Tom Doak, Jim Urbina
Year: 2011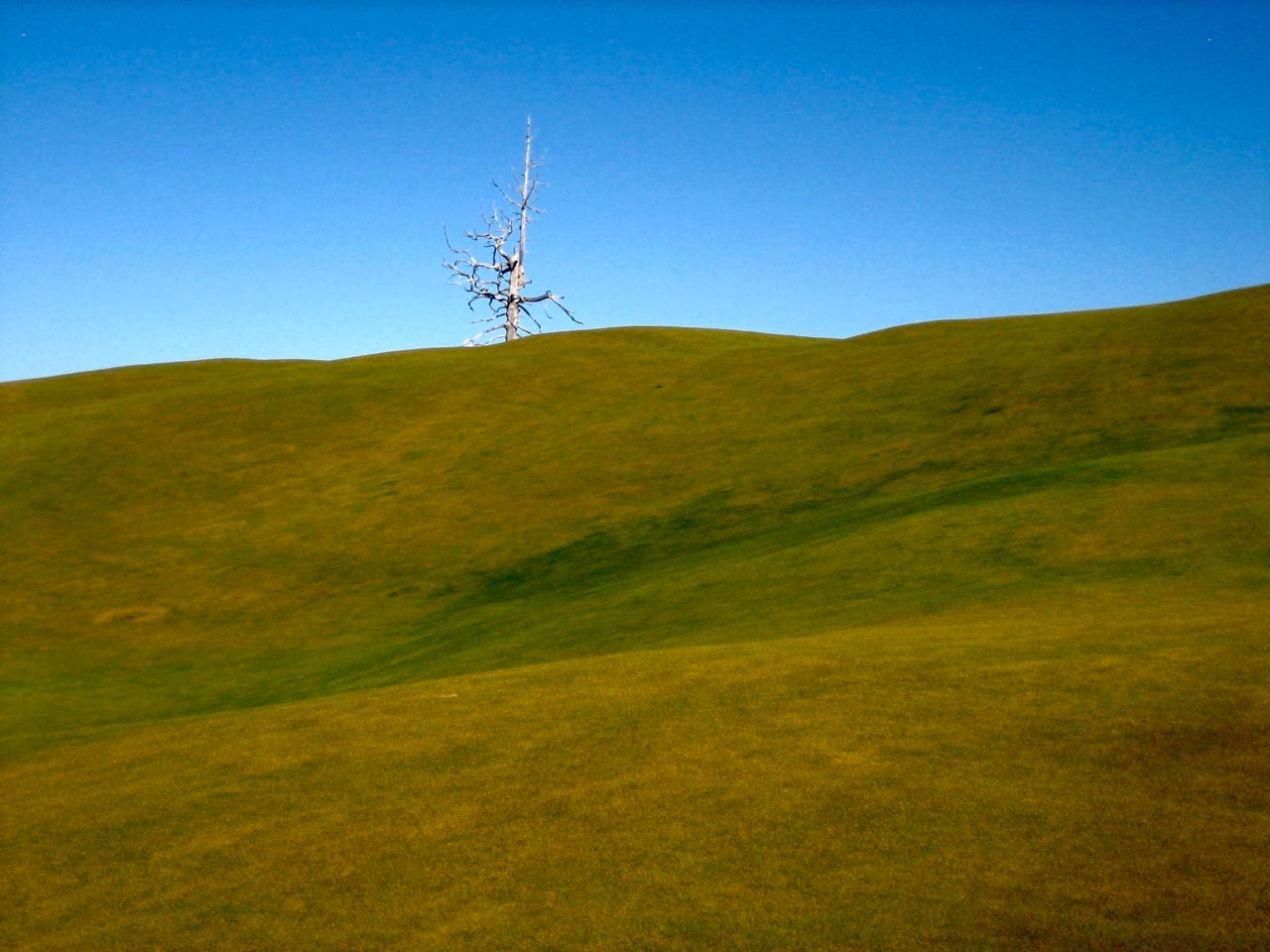 Please follow and like us: