The Landing: An Oconee Original
The Landing: An Oconee Original
The Landing (née Port Armor, née Reynolds Landing), was the first course built on Lake Oconee in Central Georgia in the mid-1980's, and for a while Bob Cupp had the only two courses on the lake when he followed this design a few years later with The Preserve (née The Plantation course) at Reynolds Lake Oconee (née Reynolds Plantation).
Got that?
Cupp once told me a story for a magazine article about the first time he came to this area. Driving through the woods in a truck with one of the original developers they came across a group of locals. Hillbillies, you might say. When they explained they were looking at the land for golf, the locals called back, "Y'all are goin' to build a golf course? Ha ha ha!"
The Landing is now one of six courses at the large resort development after being acquired by Reynolds Lake Oconee in 2009. It's come a long way.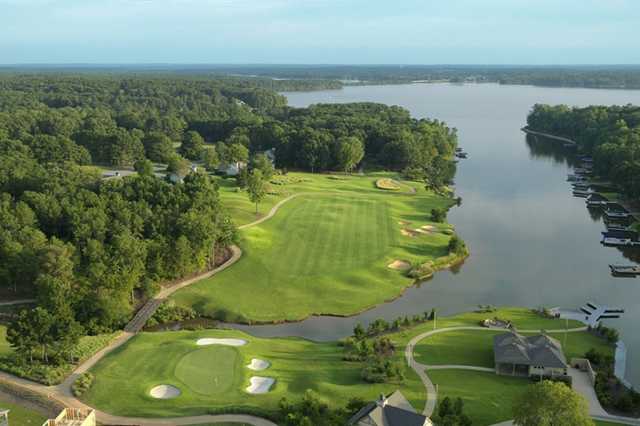 You wouldn't say the course rests lightly on the land. It was an ambitious design with an underlying muscularity in the construction and comes festooned with broad, shelved fairways and typically small, highly shaped greens. What it does have is variety, thanks to the large, lovely property. Most holes have character and use a backdrop of wooded slopes, the lake's shore and Cupp's aggressive shaping to make a strong impression.
There's one awkward moment as the out nine works its way toward the lake, with the blink-and-you'll-miss-it 137-yard 3rd hole doubling back across a pond and barely fitting in the space between the 2nd green and the 4th tee. The 457-yard 4th helps make amends, however, tumbling gracefully down toward the shoreline. The short par-4 5th plays tightly along the lake with a nerve-wracking pitch over an inlet to a tiny green that seems to hover over the water.
The second nine begins with maybe the best four-hole stretch on Lake Oconee. The current 10th (which replaced a weaker original) climbs 467 yards toward a large exposed green. Eleven is a stout one-shotter across a valley; 12 is another 450+ yard climb through a valley toward another elevated and well-bunkered green, followed by a slender 371-yard par-4. The balance and rhythm is commendable and helps to counter other forgetful spots like the downhill 16th and the totally unsatisfying 350-yard 18th. (86)
Reynolds Lake Oconee–Reynolds Landing
Greensboro/Lake Oconee
Architect: Bob Cupp
Year: 1986
Please follow and like us: