The Sea Remains the Same — The "Old" Ocean Hammock
The Sea Remains the Same — The "Old" Ocean Hammock
The Ocean Course at Hammock Beach Resort, originally called Ocean Hammock, surprised a lot of people when it opened in late 2000. One reason was that six holes touched on the dunes running along the Atlantic, something that rarely happens in Florida anymore.
The other was because Jack Nicklaus and Nicklaus Design had built what was unquestionably a big, sculptured yet completely playable golf course, playability not something for which they'd been typically known. I'm not sure if this is the project that signaled the Nicklaus turn toward more sympathetic, artful design, but it's the first one I recall.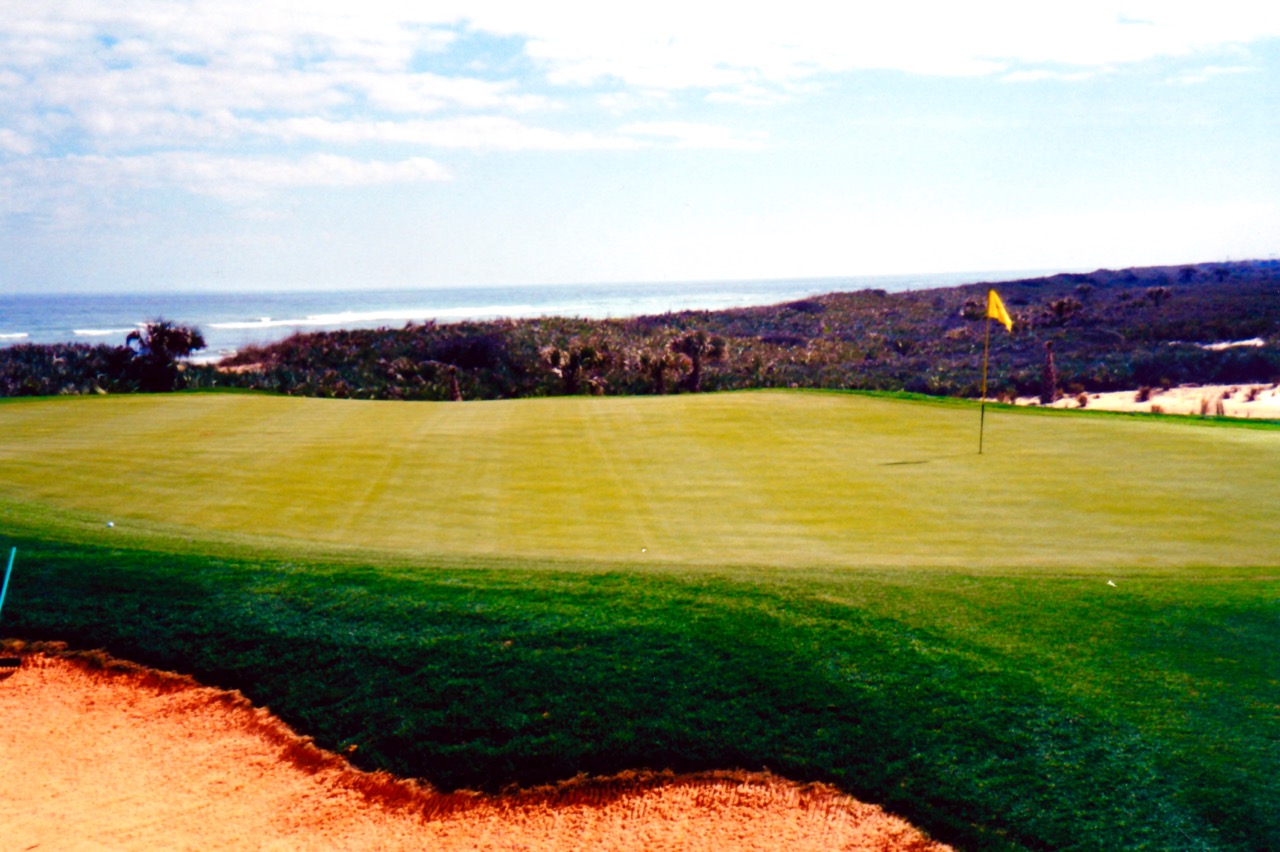 The course was much more memorable the first few years when the experience was just the player, the wind, the saw palmettos and the sound of the ocean. Now the surrounding Hammock Beach development is nearly full and the sense of nature is choked out by the visage of concrete and stucco.
My favorite hole, the par-3 8th playing toward an elevated green benched into the dunes, was once the most sublime. Now its a theater for the adjacent homes and condo patios, not to mention the eye of Sauron towers 600 yards up the coast.
Curiously, what's most striking about the Ocean Course is not the ocean but the shaping, the easy curve and contour of the green complexes and bunkers. It's a precursor to Nicklaus' beautiful 21st century work at places like May River where everything ties together to achieve a sense of flowing continuation and where recovery shots aren't so black and white.
While its hard to compete with seaside holes (though its hard to see over the high, heavily vegetated dunes), interior holes like the par-4 3rd with a raised bunker complex performing a mini Alps-like role in front of the green and the cool little par-4 11th with a bunker splitting the prime landing area can make you forget you're playing away from the property's best parts.
The 9th and 18th get a lot of attention, two powerful par-4s that run in colliding directions parallel to the beach, but they're basically just big, wide brutes. Better is the 450-yard 15th, a monster of a different sort playing straight out and uphill toward the ocean. Anything coming up short of the exposed green in the crosswinds will roll 30-yards back downhill. (89)
The Ocean Course at Hammock Beach Resort
Palm Coast
Architect: Jack Nicklaus
Year: 2000
Please follow and like us: